Our results – impact for refugees
Our humanitarian assistance in Jordan and Bangladesh has been made possible by the Novo Nordisk Foundation and has taken place in collaboration with local NGOs JHASi and Friendship respectively. With our partners and through a research-based approach, in Jordan and Bangladesh, we have impacted the mental health of refugees  through the establishment of digital services.
The Syrian refugees in Jordan continue to experience a deep humanitarian crisis. By March 2021, around 655 884 Syrian refugees have been registered in Jordan. About 79 159 of these refugees live in Zaatari Camp, located east of Mafraq town. It is the world's largest camp for Syrian refugees, and where are project is located. We are working with our partner JHASi (an NGO registered in Jordan), and are generously supported by the Novo Nordisk Foundation,
Syrian refugees in the Zaatari camp have thorough our digital health services been screened for mental health issues. Those found to exhibit symptoms has been diagnosed and treated according to their needs by psychologists at camp clinics. The project is ongoing and have to date screened 5000 persons above the age of 16, where 20.46 % were found to exhibit symptoms of mental health issues. The most prevalent issues being depression and anxiety. In a non-refugee population, the expected percentage would be around 9-10%.
The high referral rates are not surprising as the refugees suffer the effect of the conflict on their mental health. Experiences of conflict-related violence and concerns about the situation inside Syria are compounded by the daily stressors of displacement, including poverty, lack of basic needs and services, ongoing risks of violence and exploitation, isolation and discrimination, loss of family and community supports, and uncertainty about the future the refuges.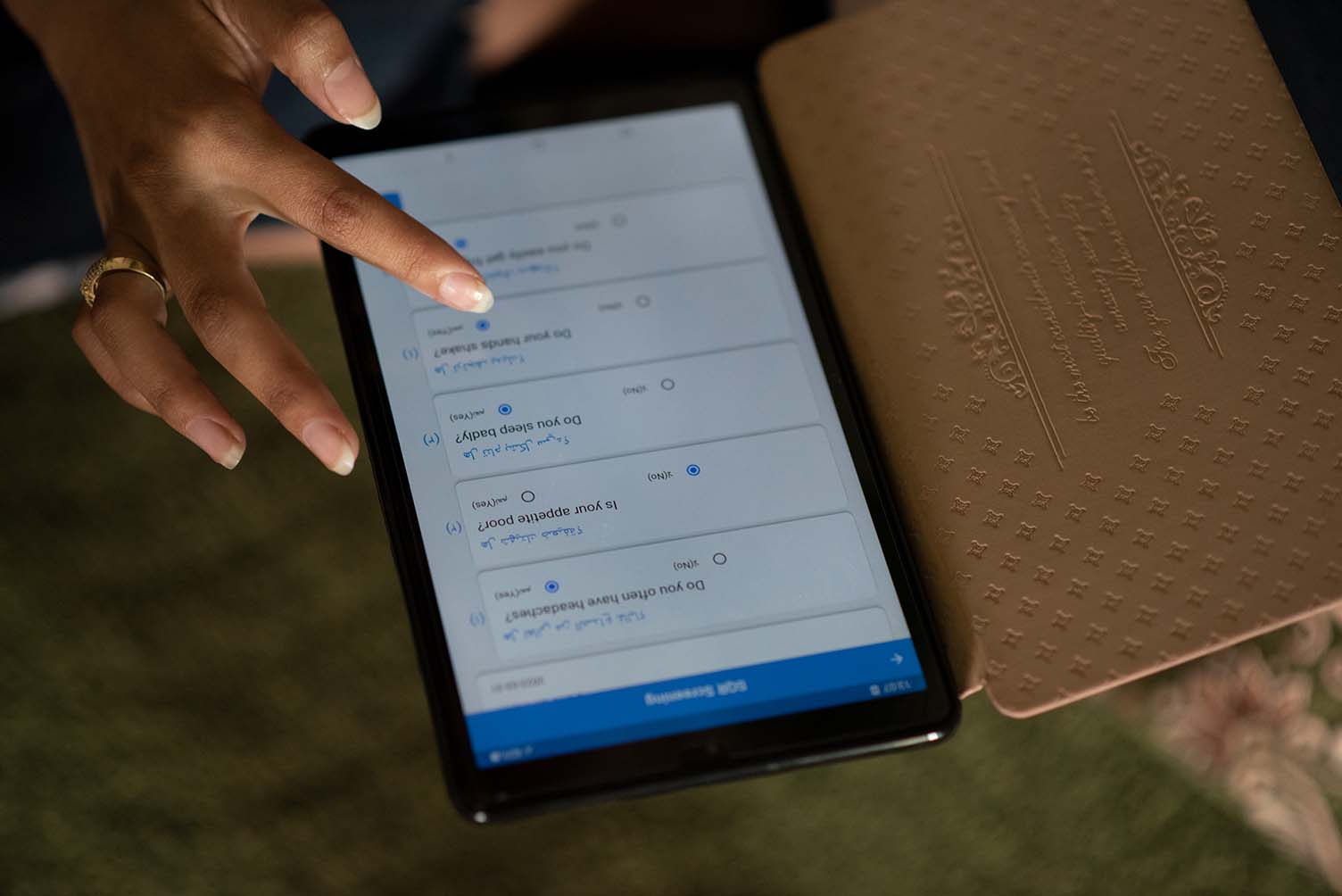 Community Health Worker using the Humanitarian Digital Health platform on a house visit.
In Bangladesh, we have worked for several years with the large Rohingya refugee community there. The Rohingya refugees in Bangladesh are experiencing one of the worst humanitarian crises in history. Almost 655,000 Rohingya entered Bangladesh following the attacks by the Myanmar military in August 2017. The estimated total affected population, including already existing refugees, new arrivals and host communities is 1.2 million people (UNICEF, 2022).
With our partners Friendship (an NGO registered in Bangladesh), and generously supported by the Novo Nordisk Foundation, we have established an outreach health care service that is based on digital technologies that enables screening the refuges in their homes for health issues and referred those in need to further diagnosis and treatment at a camp clinic. Was it not for the digitally enabled home screening some of the refugee's health care issues might not have been detected and treated. We have worked with the following healthcare issues in Bangladesh: diabetes, malnutrition, hypertension, and mental health. These are the number of consultations in Bangladesh enabled by our digital technologies so far: 4000 consultations on diabetes, 4000 consultations on hypertension, 6000 consultations on child nutrition, 3000 consultations on mental health.
There are close to 800 000 refugees in the Kutapalong refugee camp where we have worked. Therefore, our intervention is a drop in the sea and could benefit from being scaled up in the future. According to evaluations the concept of our digital interventions has helped significantly and has proven to be effective.
Associated research publications: